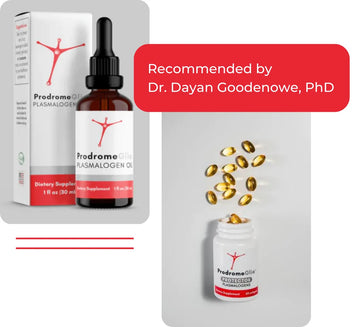 Surround, Support, & Protect.
NEURONS IN OUR BRAIN
ProdromeNeuro™ (Softgels)
ProdromeNeuro™ contains the plasmalogen building blocks for neurons that make up brain gray matter. Neurons are cells that process and transmit information in the body. These plasmalogens commonly become deficient with age.
ProdromeGlia™ (Softgels)
ProdromeGlia™ contains the plasmalogen building blocks for glial cells that make up brain white matter. Glia are cells that surround, support, and protect neurons. These plasmalogens commonly decrease with inflammation.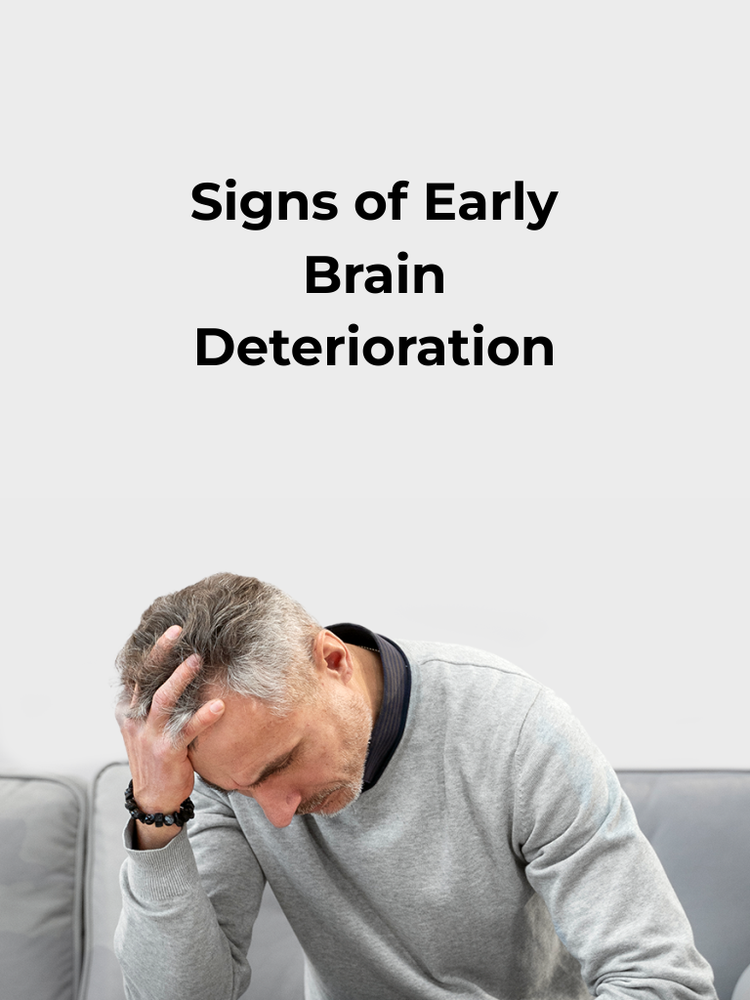 Brain Fog
Difficulty with Simple Task
Behavioral Change
Loss of Interest
Recommended by Dr. Dayan Goodenowe, PhD
Dr. Dayan Goodenowe has studied plasmalogens since 2006 when he first discovered and hypothesized about their role in the cause of dementia.

He has established collaborations with world-renowned international researchers and physicians in dementia, Alzheimer's, Parkinson's, multiple sclerosis, colorectal cancer, pancreatic cancer, ovarian cancer, breast cancer, bipolar disorder, schizophrenia, and several other diseases.

Dr. Goodenowe is an expert on the biochemical basis of disease, with a passion for the optimization of human biochemistry for longevity and vitality.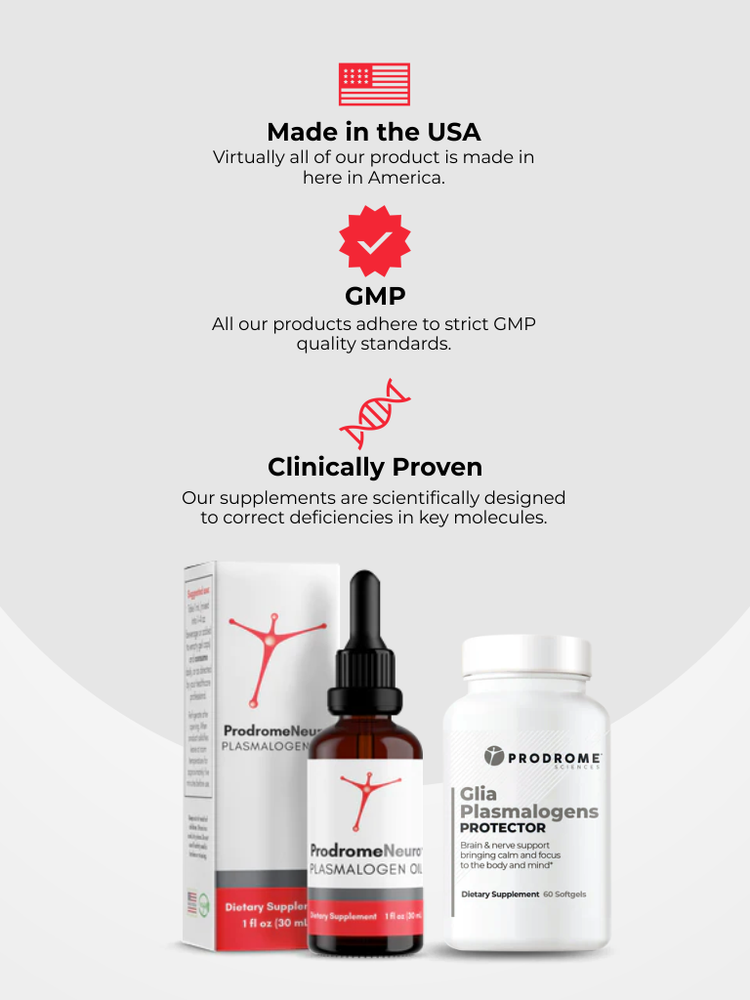 Frequently Asked Questions
The recommended dosage of Plasmalogen supplements can vary depending on the specific product and its concentration. To determine the appropriate dosage, refer to the product label for guidance. Talk to your healthcare provider or physician to discuss the suitable dosage for you. 
Individual responses to our products can vary due to a person's metabolism, general health, and lifestyle. It is difficult to determine how long it will take for an individual to recognize improvement in cognitive function. This is a long-term commitment to your health with anticipated benefits over time. Our products can provide benefits such as increased focus, concentration, and improved memory. 
However, Prodrome products are intended for research, educational, and informational use only and not intended to diagnose or treat any disease. 
Plasmalogen supplements are generally considered safe when used per recommended guidelines. However, as with any dietary supplement, it's advisable to consult your physician or healthcare provider before incorporating them into your daily routine, especially if you have underlying medical conditions or are taking medications.
If you are planning to use our Plasmalogen supplements with other medication, please consult your primary healthcare with the ingredient listing before taking them. We guarantee premium quality as we lab test each and every batch of Prodrome products we produce. However, since we aren't licensed as pharmacists or medical practitioners, please have a discussion with a healthcare professional.
Essentials of Plasmalogens
✓
Plasmalogens are unique lipid molecules critical to nerve, heart, lung, eye, and kidney cells.
✓
Plasmalogen levels decrease with disease and age as the body can no longer make enough to keep up with demands.
✓
Plasmalogens are concentrated in the brain, heart, lungs, eyes, and kidneys.
✓
Getting enough plasmalogens through the diet is impossible as they are degraded in the gut.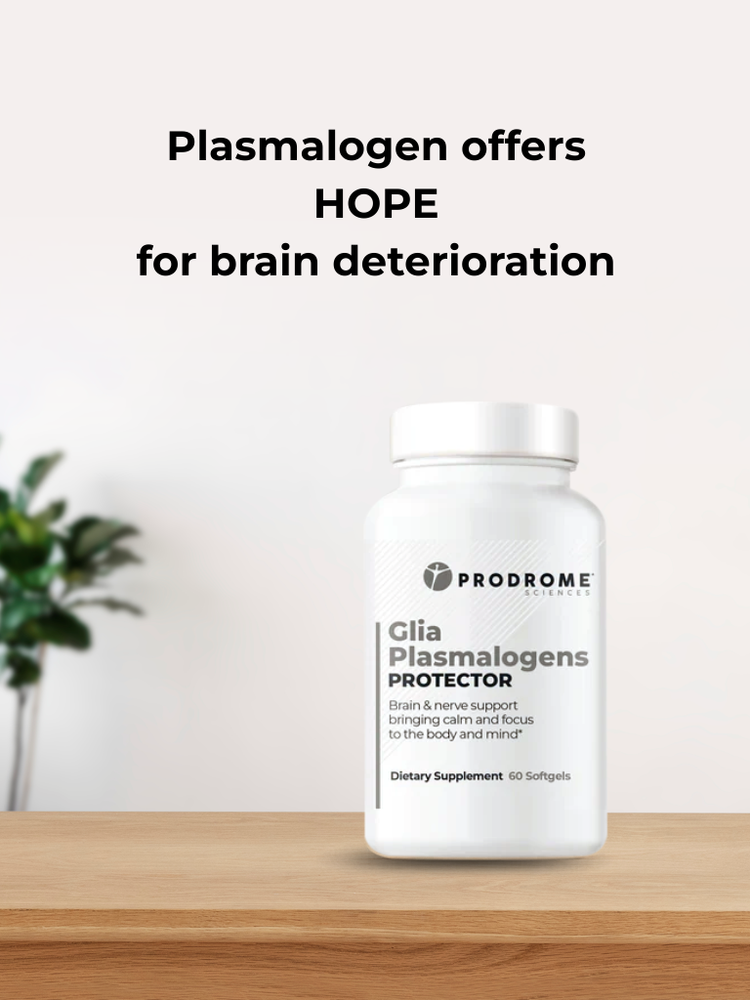 Support Memory &
Mental
Clarity
Support New
Brain Cell
Formation
Support Healthy Brain Inflammatory Response
Supported
By Clinical
Trials
Delay
Brain
Deterioration